Fast Servers
High Frequency Compute
Redundant NVMe Storage
Fully Managed
Proactive Server Monitoring
99.9% Uptime, 24/7 Support
Easy WordPress
One Click App Installer
LSCache and Staging
You Are Safe
Remote Backup, SSL
IP Blacklist Protection
Softaculous Premium
Easy to Use One Click App Installer for 300+ Apps
Softaculous One click App installer
What is Softaculous?
Softaculous is an automatic installer for scripts and applications. It installs software and scripts with just a mouse click, provides fast updates, demos for each software and you can install hundreds of scripts automatically, without requiring any technical knowledge.
Softaculous is included for free to all web hosting and reseller hosting customers and integrated into cPanel. Softaculous includes CRM software, Content Management Systems such as WordPress, Joomla and Drupal, customer support software, photo galleries, ad management software and many more. Whether you want to build a solid online store, or an online community for family, friends or for hobby enthusiasts, Softaculous has everything you need and allows you to get started in just one simple step. Click here to check out the full list of apps.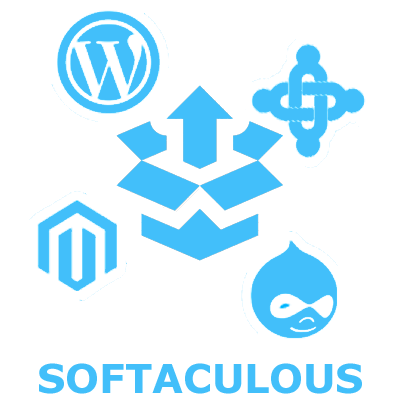 What Are the Benefits?
Our customers can automatically install WordPress, Joomla, OpenCart and other scripts by using Softaculous, without requiring any technical knowledge. It can install scripts with just a mouse click, provides fast updates and demos for each software and supports hundreds of scripts. We provide Softaculous for free to our web hosting and reseller hosting customers.
Softaculous allows taking backups of installed scripts periodically. This is particularly important because it reduces your dependency on your provider's backup solution and allows to easily maintain your own backups at your end.
Softaculous Features
Automatized installation of over a 300 popular web applications
One click staging sites to test changes or updates before publishing
Automaic update of existing installations to a newer version
Automatic backups of existing installations on the hosting server or to a remote location
Clean one click uninstallation of applications you don't want to use anymore
Multiple installations of the same applications in different directories
Applications can be installed not only in subdirectories of the main domain but also on subdomains and addon domains
Import from Other Auto Installers
Softaculous can import any of the scripts it maintains even if it was not installed by Softaculous. The process is very simple and fast. Softaculous can also Import Data of the installed scripts from other auto installers such as Fantastico. You can also choose which scripts to Import from other Auto Installers. Once Imported Softaculous will be able to maintain the scripts for future updates.
Software and Partners

Unique questions? We have precise answers
Trained experts are on hand 24/7 to solve technical issues and offer the guidance you need